Introduction
Accurate color is what you want, yes I know. Zygomatic Color promises it. But…
It may sound strange, but, it is not a very good measure of ICC profile's quality.
Some ICC profiles perform excellent in the viewpoint of color accuracy. But it never promises a graceful gradation reproduction. If you print just color charts, such ICC profiles are excellent for you. But if you print gradation, you should evaluate the quality from various angles.
Color accuracy is one of virtues. You never buy paints just because they are the most durable. Durability is an important virtue of paints, but you'll consider the price, usability, maintenance cost, availability, and a lot more too.
So please don't praise / blame any ICC profiles just because of little color accuracy. Vivid purple shouldn't be blue (check the inks first in such cases), but ΔE00 < 2 is not very relevant because the illuminant affects much more in the region. You can get ΔE00 < 1 print with substantial money, but it never looks so perfect outside of a D50 light booth.
Materials and tools
Macbeth chart (X-Rite ColorChecker Classic) or SpyderCHECKR 24
Reference images of the color charts. Download
Photoshop
Scanner, printer, paper, and inks :-)
ICC profile for the printing system
The paper shouldn't contain fluorescent brightening agents because scanners' illuminant lacks UV. In that case, you need a colorimeter.
Step-by-step
Check out-of-gamut patches
Pick a reference image per your color chart.
You should check out-of-gamut patches of the reference image. Open it by Photoshop, View → Proof Setup → Custom, and configure it to like the below: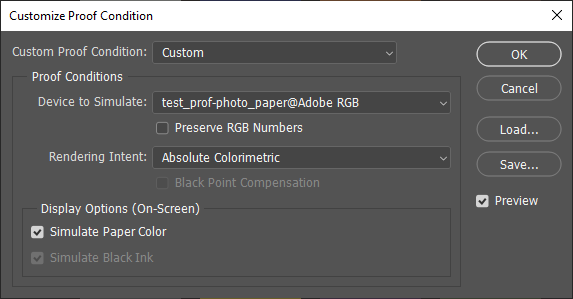 Alternate View → Proof Color and see the changes. Out-of-gamut colors change. No printer can print perfect black, so you should see imperfect black on the frame. Most papers cannot print the white patch because it is brighter than paper, except for the paper containing fluorescent brightening agents. (Such papers don't look so bright under UV-free illuminants, of course.) Omit out-of-gamut patches from the test. BTW Photoshop's gamut warning is very loose. I don't rely on it.
Print the reference image
Print the reference image by 'Absolute Colorimetric' like the below: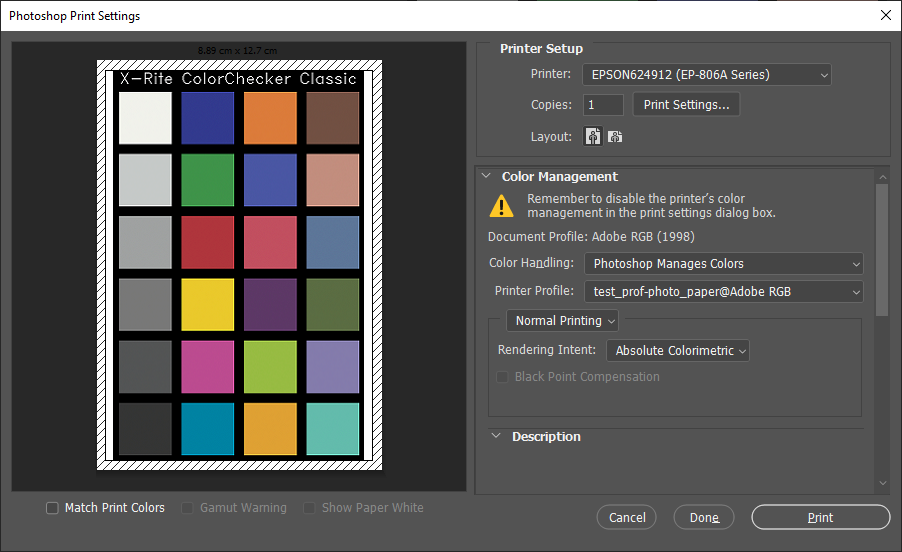 Scan the print and your color chart
The scanner's settings should be the same, of course. I recommend Adobe RGB or ProPhoto RGB as the color space.
Hollow out the patches of the color chart image, and overlay on the print-scanned image
Hollowed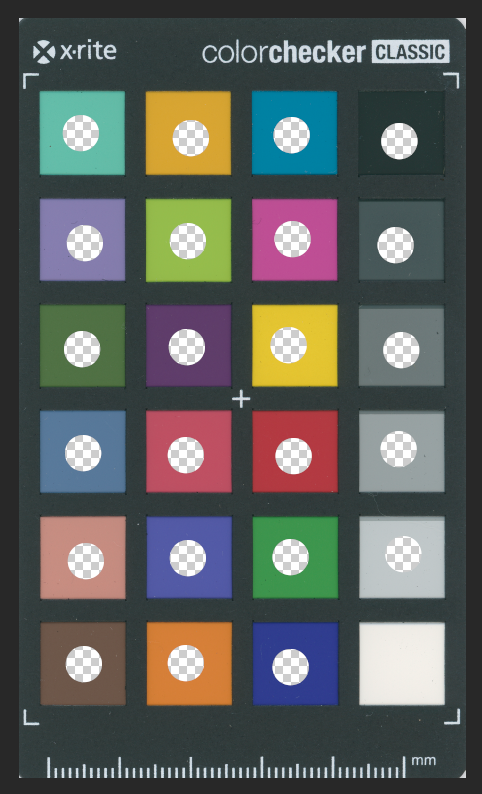 Printed-scanned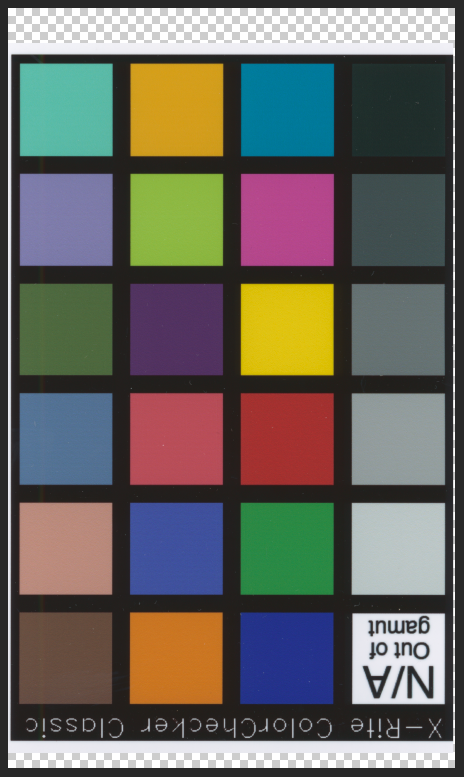 Overlayed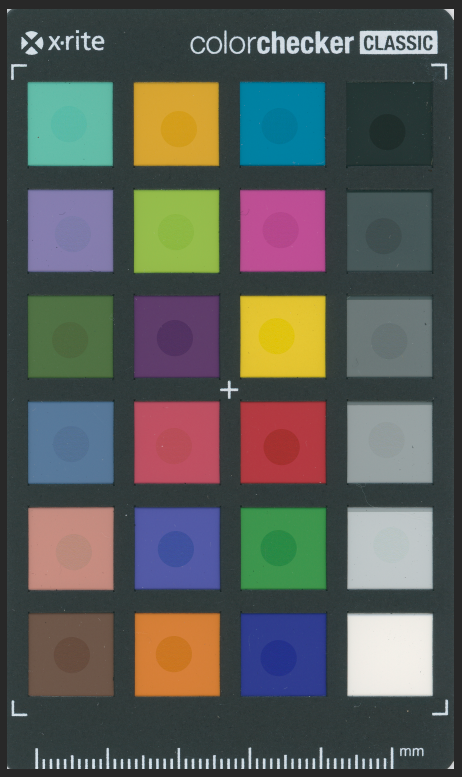 You shouldn't compare the print-scanned image with the reference image because scanners don't have such accuracy.
The image above is Zygomatic Color's ICC profile's result. How does your ICC profile play?