macOS EPSON driver doesn't work for color management
I remember the age of QuarkXpress 3.3J. In Japan, QuarkXpress 3.3J on Mac OS 9 was a gold standard of DTP. Twenty years have passed, I cannot find macOS in the industry. DTP or printing on paper isn't a growth industry. Apple abandoned the market many years ago, I guess. They concentrated on growth industries like iPhone app developments.
macOS is and always was notorious for the poor quality. So I cannot tell who is responsible for the problem, but it is there for years. No one in the world takes the problem seriously. So I recommend you to do in the same way. In other words, switch to Windows.
Where is "No Color Adjustment" in macOS?
macOS has 'ColorSync Utility' and it can print color targets by 'Print as color target.' The feature is "No Color Adjustment" theoretically. You might know about Adobe Color Printing Utility (ACPU), but it is obsolete in macOS Catalina.
BTW 'Print as color target' is trickey. The option is grayed out in many cases. In that case, go to 'Color Matching' and see 'Profile.' Doesn't it show 'Automatic'? If so, choose 'Other' and pick something. Back to 'ColorSync Utility' and choose 'Print as color target.'
Two drivers for an EPSON printer
Apple offers AirPrint as a macOS feature. Many printer manufacturers, including EPSON, adopt AirPrint for their printers. AirPrint driver is provided by Apple. Of course, EPSON provides their own driver too. So some EPSON printers have two drivers, AirPrint and EPSON.
The problem
The 'Print as color target' prints wrong colors on EPSON driver. AirPrint driver prints the right colors.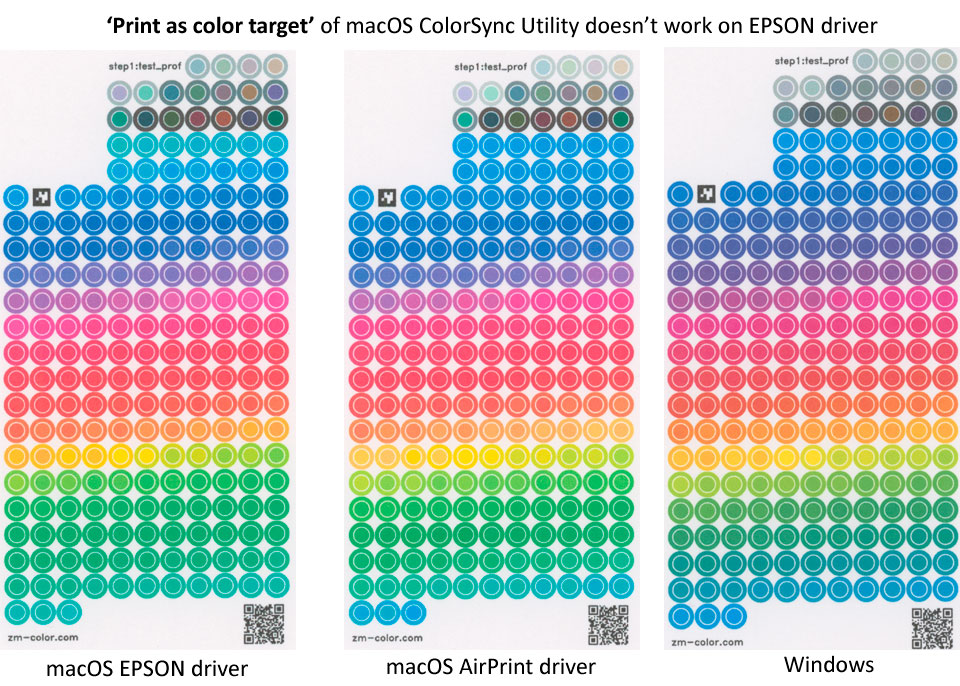 Look at bottom patches. macOS EPSON driver prints green where other drivers print cyan. Of course, the patches should be cyan. macOS EPSON driver works always like this, and no way to avoid it. ACPU prints the same colors with 'Print as color target.'